About Us
Story
Jane Campy the founder of Ruby Bloom has always had a keen interest in design. Graduating with a fashion degree, unsure exactly what path to follow, Jane bunny hopped from one craft to another. Firstly, she successfully designed & produced a leather bag collection, flirted with designing greeting cards, producing wedding invitations for family & friends. Leading to the final 'hop' working for several years as a visual merchandiser for Jigsaw & Harvey Nichols - It was on this journey where Jane discovered floristry.
"The anticipation of seeing what the florists would bring each week to the stores was so exciting to me I'd always be the first to greet them eager to see what delights they had arranged for us! I found that floristry encompassed everything I enjoyed whist studying for my degree, working with colour, texture, proportion and design, I had finally found the medium I wanted to work in"
After studying floristry for 2 years and working in a good florist for several, Jane decided to open her own florist. Established in 2006, three shop relocations later, Ruby Bloom has grown into a trusted brand, and "by this we mean consistency in image, style, quality & service".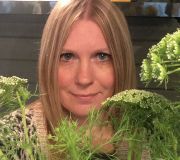 "I have a real affinity to fellow makers & do-ers, creative souls that understand their product well. Good design isn't just about how it looks, it's how it makes you feel".
Whilst floristry is very much the heart of the business, Jane's eagle eye interest in design & packaging, home & interiors remains prominent when sourcing products for the shop. "To me they blend so naturally amongst the flowers and plants, one good design product next to another makes perfect sense to me!"
Final word…
"Style over substance isn't cool - whilst we source products based on design and packaging merits. The designers behind their products possess real integrity, natural flair and a conscious for using quality materials that are right for the job, fit for purpose – no gimmicks."
Gallery
Friends
View Website

Britton Brothers -

Photographer

We highly recommend Jon from Britton Brothers if you are looking for somebody special to capture your big day. Having worked on many fashion and advertising shoots over the past 10 years, Jon's approach to wedding photography is refreshingly current.

View Website

THE HEPWORTH WAKEFIELD -

Unique venue hire

The Hepworth Wakefield with its award winning architecture and world class 20th century modern British art and contemporary exhibitions: Makes the Hepworth Wakefield the perfect location for the modern wedding.